Contact us !

.

(323) 937-1660


Common construction problems in Los Angeles neighborhoods
Many of the homes in Los Angeles were built using older construction techniques which are inadequate for the forces we now know earthquakes can cause; but, these older homes can be reinforced easily and inexpensively.
Older homes are typical victims ...
Homes built prior to 1940 in Los Angeles were built without being bolted to their foundations. Without this anchorage, a large earthquake can move the ground and the foundation right out from under the house. Older homes were damaged or destroyed in this manner by every major earthquake in California's history.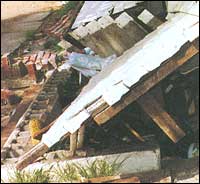 ... but earthquakes can cripple modern, anchored homes too
Some wood frame homes built as recently as the 1970s were shaken off their foundations in recent earthquakes. Even though these modern homes were bolted down, they failed because of weak bracing materials on the cripple walls. The cripple wall is a short wall that connects the foundation to the first floor of the house and encloses the "crawl space." Weak bracing materials, like cement plaster (stucco) or wood siding, are not strong enough to survive the force of moderate to strong earthquakes. The cripple wall must be braced with stronger materials like plywood. If not, the next earthquake may damage the cripple wall and move your home off its foundation, even if you've bolted it down.

OK ... now it's time to take that survey ...
---